Delamo Manufacturing
professional - janitor auto cart


Click for more info
Janitor Auto Cart (2S & 3S)
Delamo's new Janitor Auto Cart offers high-capacity storage and organization with comfortable mobility.
The innovative and ergonomic details paired with the available add on utility accessories help to create an even more efficient cleaning system.
Available in 2 sizes; designed to fit your needs.
8989-2S: 2 Tiers
8989-3S: 3 Tiers
---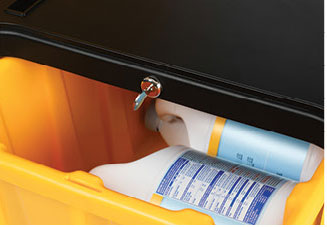 New Feature:
A Locking Bin option is now available to easily transform your High-Capacity Cleaning Cart into a Security Cart. Ask for details! Use item 8989-2S/3S-LOCK
---
Accessories Included with Janitor Auto Cart:
Two (2) Yellow 6-Quart Small Utility Pails
One (1) Yellow Utility Caddy
One (1) Yellow Vinyl Bag
Additional 6-quart small utility pails in other colors and yellow utility caddies can be purchased. All other Janitor Auto Cart accessories are sold separately.
Build Your Own Janitor Auto Cart
See all the features of the Janitor Auto Cart
Additional Accessories for the Janitor Auto Cart
You can download a copy of the 2S Instructions here.
You can download a copy of the 3S Instructions here.
Open Video

(in a new window)
item
8989-2S/3S
dimensions
46.25" x 21.5" x 36.88" (2S)
46.25" x 21.5" x 44.13" (3S)
units per carton
1
carton dimensions
39.75" x 22.12" x 15.31" (2S)
39.75" x 22.12" x 18.31 (3S)
carton weight
45 (2S)/50 (3S) lbs.
hot stamp
no
product origin
assembled in usa
Patent(s) Pending, Patent Number(s)
8,550,284; 9,266,548