Delamo Manufacturing
professional - pop mop™

Dock N' Mop Microfiber Bucket
The DOCK N' MOP Microfiber Bucket is the newest accessory for Delamo's Auto Systems.
Equipped with a snap-on water/air-tight lid and comfort grip handle, the Dock N' Mop bucket serves as a solution soaking/charging bucket for pad preparation and then quickly transforms into a mobile cleaning bucket by removing the lid and connecting it to one of the Auto Systems at floor level. This back saving feature is exclusive to Delamo and adds efficiency to any cleaning job or work environment. Just Dock N' Mop.
The Dock N' Mop bucket is molded with high-impact resistant polypropylene and has a smooth, non-porous surface for easy cleaning. It features 3" non-marking industrial style red casters, molded-in graduation marks for filling and the Edge Blade to quickly control solution saturation of pads before cleaning.
This bucket aids in reducing the risk of cross-contamination, as it was designed for a new pad to be used for each room or area and can conveniently hold 10-20 pads at a time ranging from 12"-22" in size.
Now you have more options to make the Delamo Auto System your first choice in cleaning.
shown with Auto Dolly System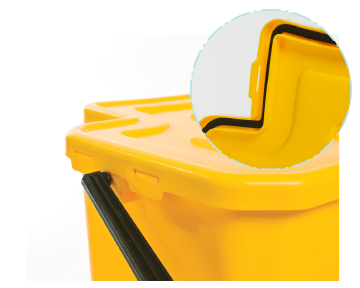 snap-on water/air-tight storage lid. Picture left - removable red Edge Blade to control pad saturation before mopping.
| | | |
| --- | --- | --- |
| item | | 8024 |
| dimensions | | 17.63" x 26" x 14.13" |
| weight | | 8.08 lbs. |
| units per carton | | 1 |
| carton dimensions | | 26.25" x 17.5" x 15.38" |
| carton weight | | 10.67 lbs. |
| hot stamp | | no |
| product origin | | made in usa |