Delamo Manufacturing
professional - pop mop™

Pop Mop™ Pro/Pro Plus
Don't touch a dirty microfiber pad again!
POP MOP™ Pro (3030/3030-Plus) is the smartest patented microfiber mopping tool for easy touch-free pad pick-up and touch-free pad POP off!
The innovative pump action handle ejects the used microfiber pad from the mop head for convenient collection and reduces the risk of contamination.
The POP MOP™ Pro makes cleaning easier and more efficient, leaving the dirty work behind.
Patented push-to-release action

Light-weight and agile, with a full 360° swivel head

Constructed from high-impact resistant plastic for heavy-duty use

Fits most 16"/18" wet or dry microfiber pads with hook and loop backing

Strong Velcro® holds microfiber pads in place while cleaning

Easy to clean, non-porous frame
Pop Mop Pro Plus (3030-PLUS) features an adjustable length handle to meet height requirements and reduces effort while cleaning.
3030: Pop Mop Pro (includes starter pad)
3030-PLUS : Pop Mop Pro Plus (includes starter pad)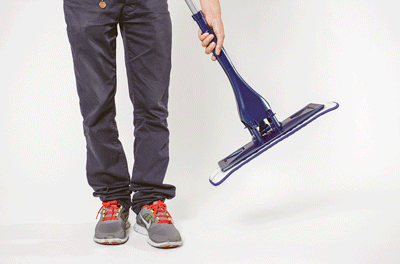 Easy-To-Use, Patented Pump Action Feature!
To remove the used microfiber pad, align the plastic housing on the handle to the contact posts, and then push down on the plastic housing to eject the pad.
| | | |
| --- | --- | --- |
| item | | 3030 |
| dimensions | | 14.875" x 4.5" x 53.75" |
| units per carton | | 4 |
| carton dimensions | | 9.5" x 6.25" x 62.25" |
| carton weight | | 9.42 lbs. |
| product origin | | assembled in usa |
Patent Number(s)
8,701,238